CALCIUM SULPHATE / GODANTI STONE 99.9%PURITY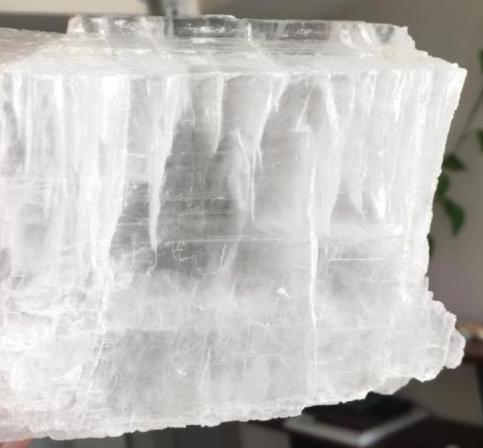 GODANTI STONE 99.9%
It is found in white colour and appears like the teeth (danta) of the cow (go), when a stroke is given over the plaques of gypsum.
Chemically, it is known as Dihydrate of Calcium sulphate . Its Chemical formula is CaSO4 . 2H2o.

Benefits:
Godanti Stone is cold in nature. So, it is preferred in the treatment of Pitta imbalance disorders.
Especially in jaundice, urticaia rashes, fever etc it is of proven efficacy.
Because of its coolant properties, it is used in fever with high body temperature, associated with headache.
It is used in the treatment of leucorrhoea, cough, cold, asthma, anemia, chest injury, etc. in children.
It improves strength and immunity.
It is used in the treatment of migraine.
The calcium sulfate hydrates are used as a coagulant in products such as tofu
Gypsum, (also known as Calcium Sulphate), is used as a water treatment in full grain brewing. Gypsum added to the mash strike water helps lower the pH level (increase acidity) of the mash.
Food additive calcium sulfate (dihydrate), only product carefully by physical purification methods, to ensure the safety, health, no pollution! The range of applications including: beer fermentation, enriched flours and breads, yeast foods, bread conditioners , seafood fresh, carrageenan or sodium alginate setting, etc.

Test
Specification
1
Description()
A White Powder()
2
Whiteness()
99% MIN(≥98.5%)
3
Solubility()
0.22 gm in 100ml cold water(:0.22g/100ml)
0.26 gm in 100ml 50ºC in water( 50ºC:0.26g/100ml)
4
F()
0.003% MAX(≤0.003%)
5
As()
0.0002% MAX(≤0.0002%)
6
Pb()
0.0002% MAX(≤0.0002%)
7
Se()
0.003% MAX(≤0.003%)
8
Assay()
98.00% MIN(≥98.00%)
9
Drying Loss at 250ºC()
19.0~23.0(%)
10
200 Mesh Sieve Residue(200)
0.3% MAX(≤0.3%)